Christian's Community Center of Los Angeles is The Church For Truth Seekers. We believe strongly in what 2 Timothy 2:15 states:
2 Timothy 2:15
King James Version (KJV)
15 Study to shew thyself approved unto God, a workman that needeth not to be ashamed, rightly dividing the word of truth.
We study many elements of the Hebrew that bring out the richness of the scriptures. Understanding that our Savior's true name is YESHUA (JESUS) was just the beginning. Check out our Hebrew 101 to get you started in your search for TRUTH!
The Hebrew Alphabet: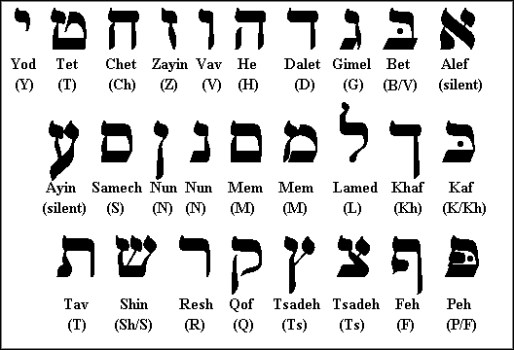 The Hebrew Vowels: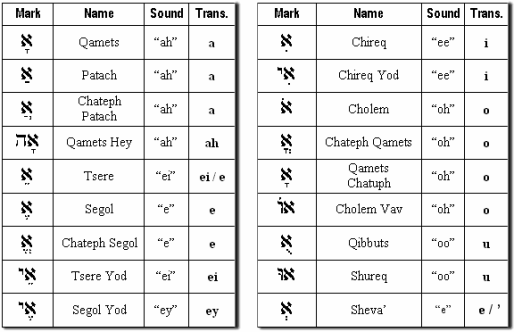 Common Hebrew Pronouns: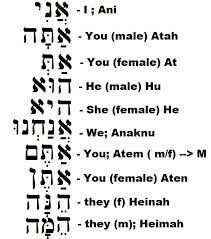 The Hebrew Books of The Bible Names Translated:
*THE OLD TESTAMENT*
Beroshit - Genesis​
Sh'mot - Exodus​
Vayikra - Leviticus​
B'midbar (Barbidbar) - Numbers​
D'varim - Deuteronomy​
Y'hoshua (Yehoshua) - Joshua​
Shof'tim - Judges​
Rut - Ruth​
Sh'mu'el Alef - 1 Samuel​
Sh'mu'el Bet - 2 Samuel​
M'lakhim Alef - 1 Kings​
M'lakhim Bet - 2 Kings​
Divrei-HaYamim Alef - 1 Chronicles​
Divrei-HaYamim Bet - 2 Chronicles​
Ezra - Ezra​
Nechemyah - Nehemiah​
Ester - Esther​
Iyov - Job​
Tehillim - Psalms​
Mishlei - Proverbs​
Kohelet - Ecclesiastes​
Shir-HaShirim - Song of Solomon​
Yesha'yahu - Isaiah​
Yirmeyahu - Jeremiah​
Eikhah - Lamentations​
Yechezk'el - Ezekiel​
Dani'el - Daniel​
Hoshea - Hosea​
Yo'el - Joel​
'Amos - Amos​
'Ovadyah - Obadiah​
Yonah - Jonah​
Mikhah - Micah​
Nachum - Nahum​
Havakuk - Habakkuk​
Tz'fanyah - Zephaniah​
Hagai - Haggai​
Z'kharyah - Zechariah​
Mal'akhi - Malachi
​
*THE NEW TESTAMENT*
Mattityahu - Matthew​
Mark - Mark​
Luke - Luke​
Yochanan - John​
Acts - Acts​​
Romans - Romans​
1 Corinthians - 1 Corinthians​
2 Corinthians - 2 Corinthians​
Galatians - Galatians​
Ephesians - Ephesians​
Philippians - Philippians​
Colossians - Colossians​
1 Thessalonians - 1 Thessalonians​
2 Thessalonians - 2 Thessalonians​
1 Timothy - 1 Timothy​
2 Timothy - 2 Timothy​
Titus - Titus​
Philemon - Philemon​
Ivri - Hebrews​​
Ya'akov - James​
1 Kefa - 1 Peter​
2 Kefa - 2 Peter​
1 Yochanan - 1 John​
2 Yochanan - 2 John​
3 Yochanan - 3 John​
Y'hudah - Jude​
Apocalypse - Revelation